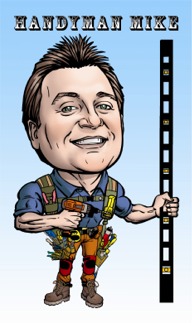 MIKE COSTANZA
(253)549-8260
We Specialize In the following Handyman Services:
CARPENTRY
Structural carpentry
Kitchen & Bath remodel
Window & door installation
Fencing contractor
Deck installation & repair
Shed construction
Outbuilding construction
PAINTING
Exterior painting contractor
Interior painting contractor
House painting contractor
DRYWALL
Drywall repair
Drywall installation
Drywall Texturing
TILE
Kitchen & Bath Tile installation & repair
Tub & shower tile
Tile Countertop installation
FLOORING
Hardwood flooring installation
Laminate flooring
LIGHT ELECTRICAL
Switches & receptacles
Light fixture installation
Ceiling fan installation
Smoke detectors
Appliance installation
Security cameras
Electric Gate installation
Doorbell installation
Holiday Lighting
LIGHT PLUMBING
Tubs, Showers, Sinks
Leaky faucet repair
Plugged toilets
Leaky water heaters
Garbage disposal repair
Plumbing repair & leaking pipes
Clogged drain repair
PRESSURE WASHING
Pressure wash decks
Pressure wash roofs
Pressure wash siding
Pressure wash driveways
HANDICAP ACCESSIBILITY
Handicap railing installation
Wheelchair ramp construction
Grab rail installation
Serving the Gig Harbor area, including Olalla, Fox Island, Lakebay, Vaughn, Key Peninsula. Also Tacoma, Fircrest, University Place, North Tacoma, Fife and Milton.
Contact Us for more information.
MIKE COSTANZA
(253) 549-8260
Handyman Services